Youneeq is especially effective in personalizing the experience for anonymous website visitors, an often-neglected audience group, that typically make up 97% of total website visitors. Companies spend a lot of money acquiring this audience but typically spend only 1% of their marketing and advertising budget to convert them.
Convert 3% of the anonymous visitor audience which in turn effectively doubles the known visitor audience.
Convert 10% of anonymous visitors, and increase known conversion by 20%, this can lift revenue between 200 – 400%.
Conversion rates have remained relatively flat since 2014.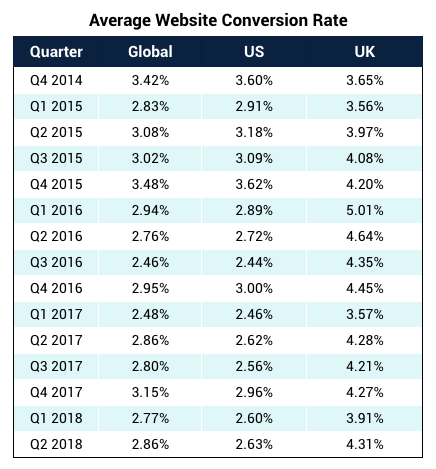 Youneeq's AI raises revenues and user engagement levels for our customers.
Youneeq has helped companies in the digital content and ecommerce industries increase engagement, and conversion KPIs 50%, 100%, and even 500% or more. This includes page views, product views, pages per session, time on site, and more, resulting revenue increases of 5-300% or more Revenue KPI's have increased as high as 25%.
The real power of AI is not the algorithms themselves; it is the data that power the machine learning and real-time decision support services. Specifically, the greatest power lies in integrating more common data sets with unique, proprietary datasets.
Youneeq is simple to install and requires little to no client side resources to manage. Just add a piece of code to your site and we do all the heavy lifting. This allows us to keep our price low and quality of service high.
Youneeq AI has already created plugins and integrations for multiple content and ecommerce platforms like Shopify, WordPress , Drupal and others,that allow them to add AI-Powered Personalization and Recommendations within existing platforms which includes:
Anonymous user rates at 95%

Bounce rates at 50% +

Low engagement

Lack of understanding of data

Lack of relevance

Poor user experience

Fewer conversions

Lost revenue
Strong core technology

Optimized algorithms

Strong results with anonymous visitors

Managed services model means we deploy faster and more efficiently

Shorter time to value means faster ROI and payback

Canadian data residency and GDPR compliance
In 2017 Netflix recaptured $1 billion in revenue by boosting their search results with artificial intelligence (AI). (Sailthru 2019)

Personalization is set to push a revenue shift of $800B to the 15% of companies that get personalization right. (Dynamic Yield 2019)

Retailers adopting AI with a proactive AI strategy generate profit margins that are 10 percentage points higher than those ignoring it. (McKinsey 2018)

96% of marketers now believe there is value in personalization. (Dynamic Yield 2019)

Personalization leads to positive ROI in 75.5% of businesses in North America and Europe; 79% of retailers see a positive ROI from personalization. (Monetate 2018)

The average website landing page conversion rate is 2.35% across a broad range of industries. The top 25% are converting at 5.31% (+126% higher than average) while the top 10% are converting at 11.45% (+387% over average) or higher. (Wordstream 2019).

With simple email personalization the average order value was found to increase 5%, conversion rates increased 6% and 17% more revenue through their campaigns than the average marketer. (Pure360 2018).

When provided a personalized online shopping experience 44% of consumers say that they will likely become repeat buyers. 49% say they have purchased a product that they did not initially intend to buy after receiving a personalized recommendation from a brand. And 40% of consumers say they have purchased something more expensive than they originally planned because their experience was personalized. (Segment Research 2018).